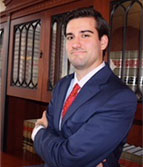 A Louisville native, Tom graduated from Centre College in 2016, and the University of Louisville Brandeis School of Law in 2019.
While in Law School, Tom gained valuable legal insight through diverse job experiences. He was awarded the Samuel L. Greenbaum Fellowship in 2017, and elected to work under a Jefferson County Circuit Court Judge. He went on to work in the legal department of a Kentucky non-profit healthcare provider, and a large corporate firm in Chicago, Illinois.
Tom joined Sheffer Law firm after graduating from law school in 2019. His practice areas include medical malpractice, product liability, premises liability, and nursing home litigation.
Tom is the stereotypical Kentuckian – he enjoys bourbon, horse racing, and college sports.