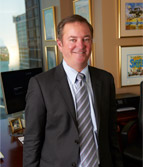 John was born in Fort Benning, Georgia. His father, Ron, was then stationed for a short period in Fort Hood, Texas. John grew up in Henderson, Kentucky, the hometown of both of his parents. He studied at Vanderbilt University before he transferred to Western Kentucky University in Bowling Green. While at Western, John was a member of Sigma Nu fraternity and served as treasurer. He really enjoyed filmmaking and editing. He received his B.A. in Communications with an emphasis in Television and Film Production in 1983.
After graduating, John pursued his dream of editing and film production by selling everything he owned and moving to Hollywood. After pounding the Hollywood pavement and sleeping on a friend's couch, he opted for "Plan B – Law School." He graduated from the University of Kentucky College of Law in 1987.
John worked for law firms in Lexington and Louisville before joining Sheffer Law Firm in 1993. He joined the firm to help establish its Owensboro office. John's practice areas include products liability, toxic tort, premises liability, personal injury, wrongful death, medical malpractice, nursing home negligence and insurance defense.
He was recognized in 2012 by Newsweek magazine as one of fourteen national "Leaders in Asbestos Law." He currently serves on the National Trial Counsel Panel for the Welding Defense Group, representing some of the largest manufacturers in the United States.
John is an accomplished musician and cook and avid reader. He enjoys traveling, music and spending time with his family.
He and his wife, Laura, live in Louisville with their three children: Samuel, Thomas, and Sarah.