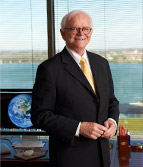 Ronnie was born and reared in Henderson, Kentucky. He attended Western Kentucky University on a football scholarship. While at Western, he was quarterback of the football team and third baseman on the baseball team. He served as Student Body President, president of the "W" Club, as well as president of his senior class. He was named a Distinguished Military Graduate.
Following his college graduation, Ronnie married his high school sweetheart, Anne Shaver, and they set out to fulfill his military obligation with the United States Army. He served tours of duty at Fort Benning, Georgia, and Fort Hood, Texas, ending his Army tenure with a year in Vietnam. For his service in Vietnam, he was awarded the Combat Infantryman's Badge and two Bronze stars.
After completing his military service, Ronnie taught high school government at Henderson High School and also coached football, basketball and baseball. He decided to pursue a law career and with the support of his wife, Anne, he went on to graduate from the University of Kentucky College of Law. While Anne taught and cared for their two young sons, Ronnie studied and worked two jobs to help support his family.
He was a criminal prosecutor in State Court for two years and in private practice. In 1982, Ronnie was one of the leaders in forming a firm that grew into a statewide law firm with offices located across the state of Kentucky and Southern Indiana. Currently, Ronnie and his son, John, own and manage Sheffer Law Firm PLLC with offices in Louisville and Owensboro, Kentucky. The firm has a statewide and national trial practice.
Ronnie's practice areas include medical and nursing home negligence, wrongful death, personal injury, white collar criminal, and equine law.
An avid fan of a variety of sports, Ronnie has followed the Boston Red Sox since the age of eight. He enjoys fishing and an annual trip to Idaho for great fly fishing. Ronnie and Anne own throughbreds and brood mares and enjoy following the horses wherever they race.
Ronnie lives in Louisville with his wife, Anne. They have three grown children: John (Louisville, KY), Tom (Birmingham, AL), and Joan (Nashville, TN). They have six grandchildren: Samuel, Thomas, Sarah, Lucas, Nathanael and Sebastian.