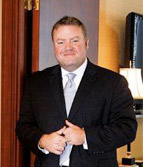 Phillip was born and raised in Harlan County, Kentucky, and is a proud native of Appalachia. He is the son of a third generation coal miner and his father encouraged Phillip to pursue something different. He was awarded a full scholarship to Alice Lloyd College. Phillip graduated from Alice Lloyd College in 1996 with a B.A. in history. He fulfilled his father's wish by being the first family member to graduate from college.
Upon college graduation, Phillip worked for the Social Security Administration. While there, he saw justice unfold daily and he decided to enroll in law school. He graduated from the Louis D. Brandeis School of Law at the University of Louisville in 1999. He was in the top third of his class.
Phillip has been with Sheffer Law Firm since 1995. His practice areas include medical malpractice, wrongful death, nursing home negligence, estate planning, and insurance defense.
He is very active in the music ministry at Southeast Christian Church and has been a member of the worship team for the past twelve years. He has also played a lead role in Southeast's Easter Pageants and has recorded two CD's with a locally based Christian band. Philip enjoys fishing and hiking with his parents.
He is married to his high school sweetheart, JJ, and they live in Louisville with their three children: Leslie Lynn, Harlan (named for his home county), and Henry.