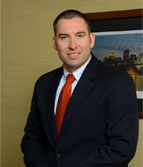 Jackie was born and raised in Knoxville, Tennessee. He attended the University of Tennessee and graduated in 2008 with a B.S., in Communications.
Upon graduation, he moved to Louisville to attend the University of Louisville Brandeis School of Law. While there, Jackie was a member of the University of Louisville Law Review, a member of the Moot Court Board, the Co-Chair for the Student Bar Foundation and a 3L Class Representative to the Student Bar Association. Jackie also represented the school in the ABA Negotiation Competition. While in law school, Jackie worked as a law clerk for a law firm specializing in civil litigation.
Jackie joined Sheffer Law Firm in 2017. His practice areas include medical malpractice, product liability, nursing home litigation, and premises liability. Prior to joining Sheffer, Jackie worked for a law firm in Southern Indiana specializing in insurance defense litigation.
Jackie currently attends Eastside Christian Church in Jeffersonville, IN. He is an avid sports fan as he roots on his two college teams, Tennessee and Louisville, as well as the Tennessee Titans and Nashville Predators. He also enjoys woodworking, running and hiking.
Jackie and his wife, Carli, reside in Jeffersonville, with their daughter, Adaline.